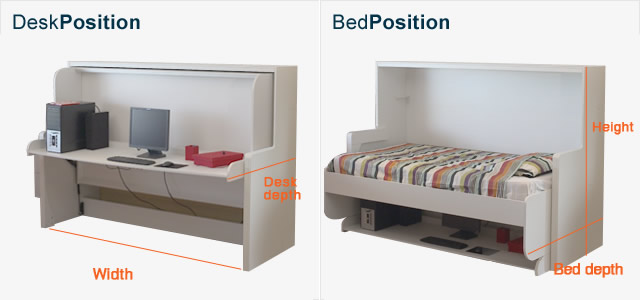 Colours:


Hiddenbed instantly transforms your study desk or work table into a supremely comfortable bed - in one simple and safe operation. You can leave computers, printers in fact all the normal things you would expect to have on a desk in place, even a glass of water!

This world wide patented concept gives you two rooms in one, and is the perfect solution for situations where space is at a premium. For example, a home office, an apartment, a holiday home, or guest room. The additional bed it creates, can even add value to your property. Hiddenbed is also becoming increasingly popular for commercial and institutional applications.
Completely free-standing!
Bedding remains in place!
Computer or phone cords come up easily behind the desk and remain there when changing positions!
Price & Specifications
Desk Bed Specifications
Single Bed
King Single Bed
Double Bed
Price
$3,650*
$3,750*
$3,950*
Height
1386mm
1543mm
1745mm
Width
2067mm
2187mm
2047mm
Desk Depth
1045mm
1050mm
1167mm
Bed Depth
1026mm
1200mm
1524mm
Max. height of desk items
450mm
450mm
525mm
Mattress Size
900 x 1900mm
1070 x 2020mm
1370 x 1900mm

*Includes GST, Installation and delivery to main centres. Mattress is not included. There will be an additional cost for delivery and installation for rural customers.