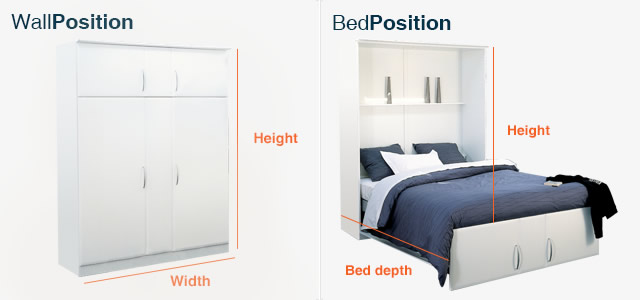 Colours:




A fantastic Wall Bed system, it is most suitable if you require the ultimate in space efficiency.
These beds give you a contemporary and concealed look that blends in as an accessory to the room, and allows you to function during the day and to get the rest you need at night.
The Wall Bed is designed for full time use and has a 5 year warranty on all movable parts.
Price & Specifications
Wall Bed Specifications
Double
Queen
Price
$5,100*
$5,200*
Height
2098mm
2098mm
Width
1500mm
1700mm
Bed Depth
2170mm
2170mm
Closed Depth
520mm
520mm
Mattress Size
1990 x 1385mm
1980 x 1500mm

*Includes mattress, installation, delivery to main centres and GST. There will be an additional cost for delivery and installation for rural customers.

Mattress Details